What's happening to the Dranse in the drought
Here's how : the river Dranse is dam controlled. EDF (Electricitie de France) have a hydroelectric power station at the top of the river which releases water from the reservoir at Le Jotty as well as from the Abondance Valley. The power station releases water from both valleys to turn the turbines at the powerstation to make electricity - which it passes into the European grid. Rafting companies enjoy the by-product of the turbine-turning water coming down the river enabling us to raft.
This year, because of the water shortages, there is less and less water available in the valley reserves - think of all the dry river beds, how long it is since it rained, and add the intense heat making moisture evaporate. The result? When EDF releases water to turn the turbines, we can raft on the water released - and the rafting is pretty much the same as in other years. The kicker is that when the release stops, the rafting has to stop : there's simply no way of getting down the river without it. So while the water level is between 9 - 12 cubic metres per second when the dam releases (similar to every summer), it releases for only 2 hours each day (between 9h and 11h today, Wednesday 10th August). Usually for this time of year we have water for about 5 - 6 hours in which to run trips.
If you're lucky enough to have been on the river, you may believe there's no problem. Please don't let yourself be fooled into believing that the drought is less severe than has been publicised just because the river seemed more-or-less normal on your rafting trip. If you drive along the Dranse before 9h30 or after 12h, you'll see the reality. The drought here is serious : no one we work with - including guides who have been rafting on the Dranse for far longer than we have - has ever seen restrictions like this year's…and no one knows what will happen next. There is very little rain forecast, and the heat doesn't seem to be abating.
The intense heat and severe drought of this summer have certainly brought home to everyone working on the river how much we owe to nature, how much we need nature, and how little we have appreciated it, and taken it for granted. Autumn seems to be taking place when we should be in summer : trees losing their leaves, blackberries all over the place, and autumn colours taking over. Please try not to waste your precious water - appreciate every drop whether you're brushing your teeth or doing your washing up - it's only when there's not enough we remember how crucial it is.
On the left you can see the Rapid La Pile when there's no water. On the right when there's water - these were taken on Monday 8th August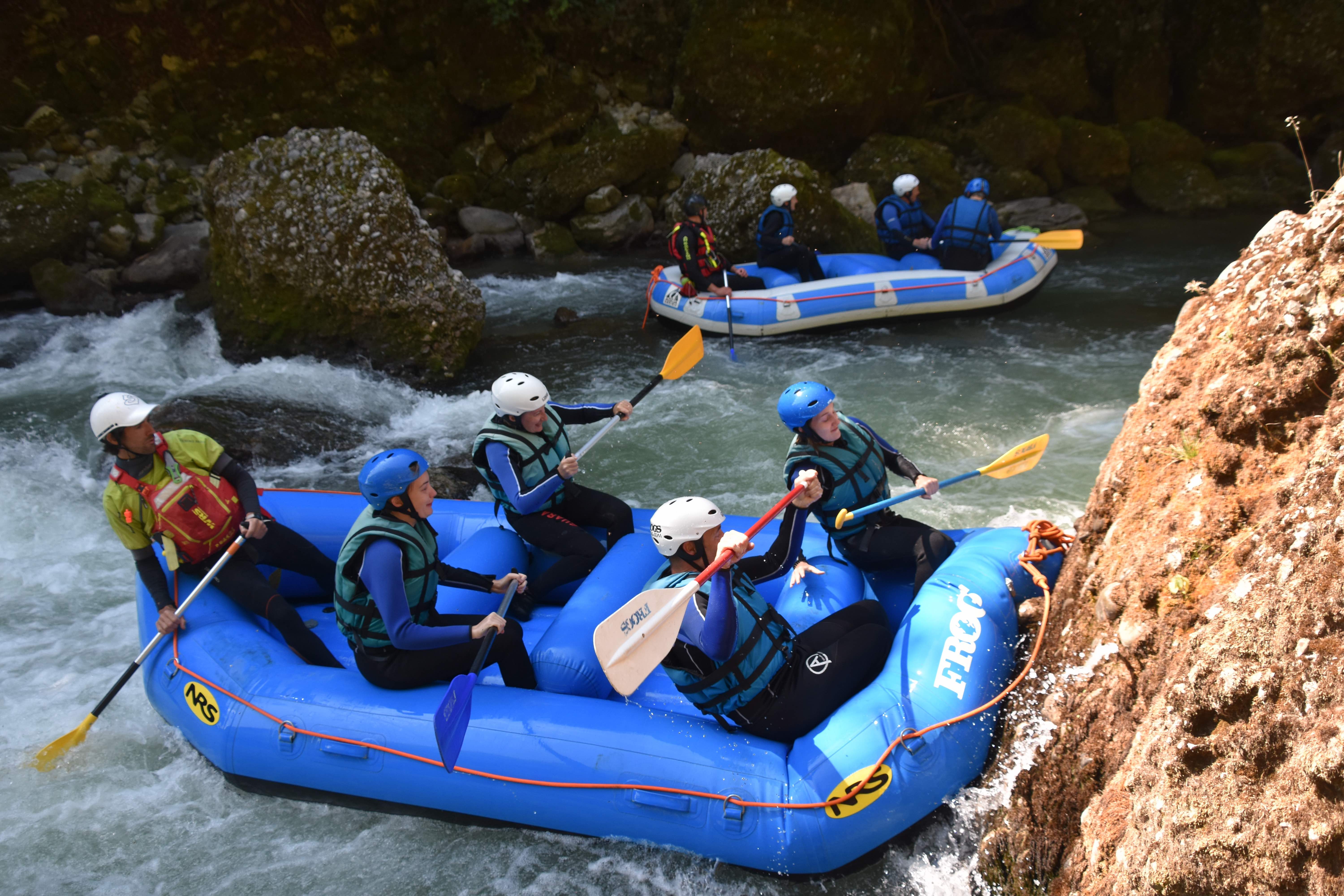 Go back